iBank@ESSA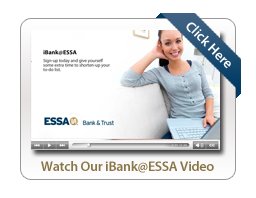 iBank@ESSA, our Online Banking service, provides convenient, secure access to your account information 24 hours a day, seven days a week.
With iBank@ESSA you can:
View real-time transaction and balance information.
View and print check images once they clear your account
Set-up one-time or automatic transfers between eligible ESSA accounts
Receive an e-mail or text alert when your account balance goes above/below the amount(s) you establish, when a specific
check clears/transaction occurs, or when your account receives a direct deposit
Download your data to Quicken or Quickbooks on your PC
Reset your own password at any time
Request stop payments
Re-order checks for your account
Nickname your accounts for easier record keeping
Enroll to receive eStatements
View additional account information such as: interest paid YTD, interest paid last year, interest rate, maturity date, etc.
Total control, 24/7 access, secure account information - that'siBank@ESSA!
It's fast and easy to sign up for iBank@ESSA! Just follow these simple instructions:
· Click the "Enroll in Online Banking" link in the iBank login box (located in the upper left corner of each page on our website)
· Enter your information as requested, then click 'Submit'
· Set-up your user ID, password, and security information
Read and accept the terms and conditions Then your accounts are available INSTANTLY online!

You may contact us at iBank@essabank.com